Apologies for the silence last week my loves! Every girl needs an occasional escape and I was lucky enough to sneak off for my first visit to the Land of Wood and Water, better known as Jamaica. Since it's a pretty popular tourist destination, I thought I'd share my take on the trip and the beautiful resort where I stayed, the all-inclusive
Gran Bahia Principe
in Runaway Bay. After all, as they say in Jamaica,
"If fish deh a river bottom an tell yu seh alligator have gum boil, believe him!" (Learn from those who have experienced!)
As is the case with many similar resorts, the star ratings vary from site to site, with Expedia and TripAdvisor putting it in a 3.5 star class, Book It.com touting it as a 4-star favorite and the hotel itself advertising on its website as a 5-star establishment. Due to these variations (which I've learned come from the fact that every site has their own criteria and rating systems), I've come to rely on reviews from other travelers as my best assessment when picking hotels and chose this one based on the positive TripAdvisor reviews and a recommendation from a co-worker who happens to also be Jamaican!
First Impressions
We flew direct from JFK into Montego Bay airport, where our ground transport by
Jamaica Tours Ltd.
arranged by
BookIt.com
(one of my favorite budget travel sites) was waiting. Just in case you ever rely on similar ground transport, you should know that the driver doesn't actually meet you with a sign as promised, but rather you have to check in at a desk inside the airport. If you head straight outside, prepare to be accosted by cab drivers offering you rides even after they've heard you say "no" fifteen times already! The bus we finally piled into was small and weathered, making me nervous at first, but when we pulled into the resort driveway an hour and fifteen minutes later, all discomfort was instantly forgotten!
The resort feels much more Latin than West Indian in decor (I LOVED the chandeliers in the grand entryway) and evokes a European colonial plantation style throughout the entryways, dining hall and guest rooms.
The European influence could also be felt in the food which was highly disappointing since I love Jamaican food and was looking forward to sampling the local fare. I did get to try a
Juici (beef) Patty
during an offsite romp and it lived up to promise!
Day-to-Day
The resort grounds were beautiful and well-kept and I have no complaints about the room, although they required a $50 deposit (yes, in US dollars!) to use the ramshackle in-room hotel on top of a charge of $6/night. I personally have never had to pay for use of a hotel safe in a foreign country and found the cost (especially at a "all-inclusive" resort) to be ridiculous. We decided to keep our change and found more creative ways of securing our valuables (it's amazing the comfort that a "Do Not Disturb" sign can bring!). We sprung for the ocean view (worth it!) and our room was thoroughly cleaned daily, with a different towel sculpture accented with hibiscus blossoms left on our bed as a welcome back gift.
Overall, the layout of the resort was convenient enough, with the pool, beaches, and restaurants being within walking distance (no pesky shuttles!), and we dined at the main buffet for breakfast and dinner every day since the 4 specialty restaurants require reservations which seemed surprisingly hard to get (the only availability was 10PM even two days in advance). The buffet was definitely an exercise in quantity over quality with a generous selection of food that was just "okay". I got most excited by the discovery of fresh passionfruit which I loved as a child and haven't had in years. Despite the romantic name, the fruit itself initially looks pretty unappealing, as it's a bit slimy and full of seeds. Depending on the ripeness of the fruit, it can also taste kind of sour. But I loved it and devoured it as my tropical finish to every meal.
The resort boasts a small shopping village about a 5-10 minute walk from the main lobby and surprisingly, the prices for souvenirs in some of the shops weren't all that unreasonable compared to what we found when we went shopping in the city center of Ocho Rios (about half an hour away) and across the island in Mandeville. At night, there's live entertainment of the typically cheesy resort variety in the village square, complete with neon palm trees. Gotta love it.
Venturing Out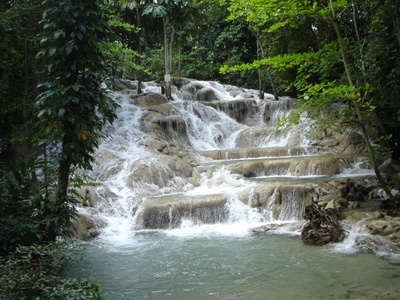 Although it's currently the beginning of hurricane season in J.A. which caused it to rain every afternoon/night while we were there, we still headed to Dunn's River Falls, where we climbed the 600 feet of beautiful, natural waterfalls. It was slippery goings, especially in the light drizzle, but as somebody who can barely swim and doesn't have an extreme bone in her body, I will say the climb was fun and definitely worth it! Pretty much all the travel/tour reps who roam the resort offer a trip to the Falls, and we didn't compare prices so I'm not sure what the range is, but we bought $7 water shoes at one of the shops in the resort shopping village (cheaper than in the guest shop of the actual hotel and the same price as renting used ones- I think reusing wet footwear from strangers is gross) and paid the $40/person price with Jamaica Tours (which included our entrance fee and R/T transport- we lucked out and also got a freebie trip to the shopping center in Ocho Rios where I fell in love with Sangster's Coconut Rum Cream!). I definitely think we got our money's worth and would love to go back.
Leaving the resort gets VERY pricey so be prepared if you intend to venture out on your own. We took a day trip to Mandeville (about a 2 hour and 30 min drive one-way across the island) and it cost $240 US round trip (sooo, basically the cost of a flight!). I'm sure we could have negotiated a cheaper fare if we hadn't used the hotel's cab service, but our polite, non-skeevy driver Kevin was so nice and patient ("Kevin, can we stop for a beef patty?" "Ummm do you mind waiting for an hour while we figure out what we're doing?" "No, we don't actually have an address or specific destination to give you..."), serving as chauffeur, companion and tour guide on the trek, that he deserved every cent. I promised to recommend him and give his Taxi Service a shout-out so here it is (and you know if I didn't mean it, I wouldn't do it)- if you're in Jamaica and need Taxi Service ANYWHERE (from the airport, on a tour, personal trip, whatever) check out Kevin's Taxi Service at
www.jamaica-travels.com.
Final Thoughts
Overall, I had a nice time during my stay at the Gran Bahia Principe in Runaway Bay, Jamaica and would rate it a 3.7 on my personal scale of resorts. I recommend it to travelers with the following caveats:
-It's far from the Montego Bay airport and major city centers
-The food is just okay and the drinks are watered down- restaurant reservations can be hard to get
-You have to pay to use the room safe
-I didn't try the spa so I can't vouch for it
-They don't provide conditioner so bring your own
-The one night I needed to use the computer room ($0.50/min to use the Internet) the sole printer was broken and the bored attendant seemed pretty unsympathetic to my plight
-The pool towels are starting to fray, they could use a new set.
One thing I will say though is that despite the lack of authentic Jamaican flair about the Gran Bahia Principe, the Jerk Chicken at the on-site Pisces snack bar and grill is a MUST-HAVE! Crazy spicy (and I'm a girl who used to snack on jalapenos!) but soooo delish! They attempted to serve a rendition of jerk chicken at the buffet the night after I sampled Pisces jerk and it was an epic fail in comparison. I'm still craving it!
Next time we visit Jamaica, I'm thinking we'll try the
Iberostar Rose Hall Suites
or one of the
RIU
properties, both of which we heard great things about from other vacationers we met on our trip. I'd also love to see the black sand beaches of Negril, which seems like it might be more my speed as a quieter, more relaxing destination than Ochie or MoBay.
Have you been to Jamaica or stayed at the Gran Bahia? What did you think about it?